We are thrilled to offer these stunning mixed cases that have been exclusively designed for our clients.
Our idea was to celebrate the brilliance of the 2016 Bordeaux vintage by selecting six 100pt rated wines from six different communes - St Estephe, Pauillac, St Julien, Margaux, St Emilion & Pomerol.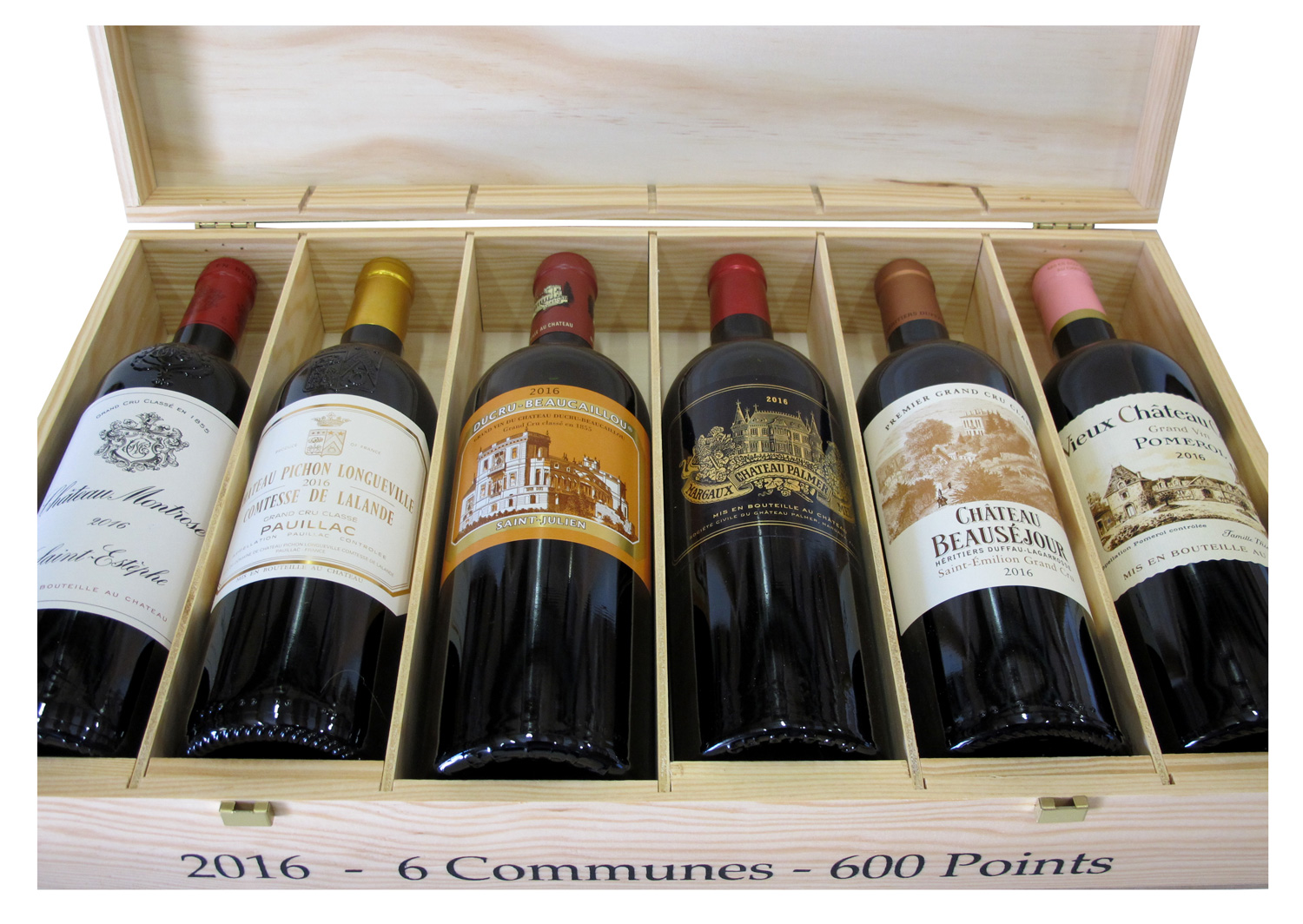 We created 75 of these beautiful bespoke cases that we feel would make a great focal point in your cellar, be ideal to lay down for yourself of the family, or make the perfect gift for a friend or colleague. The wines will undoubtedly be worth considerably more in the future, so why not buy 2 cases with a view to selling one when the wines are mature?
Beausejour Duffau Lagarosse (Saint Emilion) - 100 JD
Ducru Beaucaillou (Saint Julien) - 100 JD
Montrose (Saint Estephe) - 100 JD
Palmer (Margaux) - 100 VM / 100 JD
Pichon Lalande (Pauillac) - 100 VM / 100 JD
Vieux Chateau Certan (Pomerol) - 100 WA / 100 VM / 100 AG / 100 JD
2016 - 6 Communes - 600 Points Case @ £1,195 per case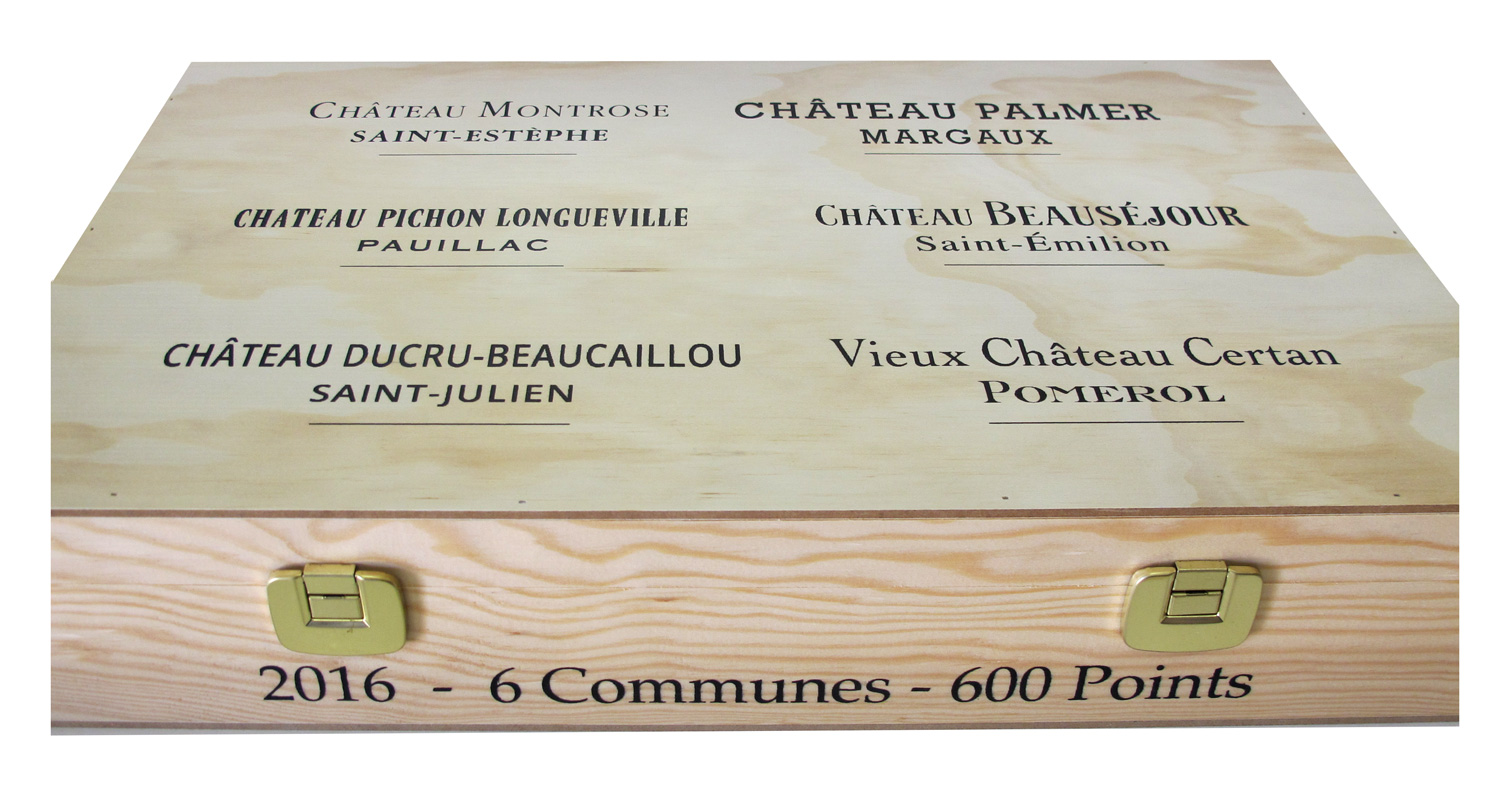 Containing 1 bottle each of the following wines:
Beausejour Duffau Lagarosse (Saint Emilion) - 100 JD
Cassis, crushed rocks, graphite, and liquid violet notes all emerge from the 2016 Château Beauséjour, one of the magical wines in this great, great vintage. Possessing full-bodied richness, building tannin, world-class purity of fruit, and an incredible finish, it's one of those "iron fist in a velvet glove" wines that carries awesome richness and depth, yet just glides over the palate with no sensation of weight or heaviness. This legendary Saint-Emilion needs 6-7 years of cellaring and will keep for 3-4 decades. Don't miss this wine! - Jeb Dunnuck
Ducru Beaucaillou (Saint Julien) - 100 JD
Reminding me of the 2010 with its incredible stature and class (as opposed to the more opulently styled 2009), the 2016 Château Ducru-Beaucaillou is a legendary wine from the genius of Bruno Borie, who has managed this estate brilliantly since he arrived in 2003. A blend of 85% Cabernet Sauvignon and 15% Merlot brought up all in new oak, the 2016 has a mammoth bouquet of crème de cassis, espresso, camphor, crushed violets, toasty oak, and graphite. Full-bodied, concentrated, and backward on the palate, it nevertheless has perfectly integrated acidity and building tannins, a concentrated, layered texture, off-the-charts purity of fruit, and a finish that won't quit. Give this powerful, concentrated wine a solid 7-8 years of bottle age and enjoy it over the following 50 years or more - Jeb Dunnuck
Montrose (Saint Estephe) - 100 JD
Unquestionably one of the top 2-3 wines of the vintage, the 2016 Château Montrose is a monument in the making. Checking in as a blend of 68% Cabernet Sauvignon, 25% Merlot, and 7% Cabernet Franc raised in 60% new French oak (the balance was in once-used barrels) and representing a tiny 36% of the production, this deep purple-colored 2016 possesses powerful, incredibly classic Saint-Estephe notes of creme de cassis, graphite, damp earth, lead pencil shavings, and burning embers. With a powerful, full-bodied style on the palate, a huge mid-palate, lots of underlying structure and tannic grip, and perfect balance, this magical wine will need upwards of a decade or cellaring and keep for 40-50 years - Jeb Dunnuck
Palmer (Margaux) - 100 VM / 100 JD
Technical Director Thomas Duroux and his team made one of the most brilliant wines of the 2016 vintage. Palmer is simply exceptional. Rich and dramatically sweeping in the glass, the 2016 is breathtaking. All the elements simply fall into place in a wine of mesmerizing beauty. The counterpoint of dark, sumptuous fruit and floral notes makes for an utterly compelling Palmer that will take its place among the estate's finest vintages. Dark cherry, lavender, spice and mocha are some of the many notes that build into a deep, substantial finish that is truly unforgettable. In a word: magnificent! - Antonio Galloni, Vinous Media
Pichon Lalande (Pauillac) - 100 VM / 100 JD
The 2016 Pichon-Longueville Comtesse de Lalande is every bit as regal as it has always been. Towering and spectacularly rich in the glass, the 2016 captures every ounce of potential is showed from barrel. The 2016 is a vivid, dramatically sweeping wine that will leave readers week at the knees. Beams of tannin give the 2016 soaring intensity that is matched by a host of aromas and flavors that open up in the glass. Blackberry jam, graphite, spice, menthol, licorice, pencil shavings and spice are all finely sketched in a bold, savory Pauillac that hits all the right notes. The 2016 Pichon Comtesse has been riveting on each of the four occasions I have tasted it from barrel thus far, making it easily one of the wines of the vintage. Nicolas Glumineu and his team turned out an epic Pichon Comtesse in 2016. Don't miss it! - Antonio Galloni, Vinous Media
Vieux Chateau Certan (Pomerol) - 100 WA / 100 VM / 100 AG / 100 JD
The 2016 Vieux Château Certan is blended of 85% Merlot, 14% Cabernet Franc and 1% Cabernet Sauvignon. Deep garnet-purple in color, it leaps from the glass with pristine, vivid notions of candied violets, chocolate-covered cherries, blackberry compote and mulberries with fragrant touches of raspberry leaves, crushed rocks, licorice, cumin seed and yeast extract plus a waft of red roses. Medium to full-bodied and beautifully elegant, the palate builds from a quiet intensity to an incredibly well-sustained aria of crunchy red and black cherries notes plus tons of floral undertones, framed by exquisitely soft yet firm tannins and seamless freshness, finishing very long with lingering mineral and floral sparks. How does this 2016 compare to the also amazing 2015 vintage? Stylistically they are very different, as my notes on each should convey, but beyond this I am struck by the incredible harmony and seamlessness of the 2016 along with its amazing depth and energy this year. Bravo! - Lisa Perotti-Brown, Wine Advocate
Let us know HERE if you are interested!
These wines are of course available individually too:
Case: 12 × Bottle (750ml) • Stock: 6 loose bottles