GVWM Affiliates
We are pleased to be affiliated with the following wine websites:

Decanter magazine is - quite simply - the world's best wine magazine. Read in over 90 countries, Decanter is required reading for everyone with an interest in wine - from amateur enthusiast to serious collector. Our experts recommend 4,000 wines a year, so whether you're looking for affordable Australian Shiraz for the weekend, or premier cru Burgundy to lay down, Decanter will find it for you.

Wine writer Tom Cannavan was a pioneer of wine on the Internet when he launched wine-pages.com in 1995. In 2008 he was awarded the trophy as Louis Roederer International Online Wine Writer of the Year (shortlisted in 2010 and 2011) and in 2010 the Portuguese wine industry named him Wine Writer of the Year. Tom is also a popular and accomplished broadcaster on TV and radio, with his weekly wine slot on Scottish TV between 2009 and 2011 and frequent appearances on BBC Radio Scotland.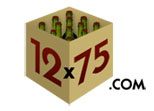 12x75.com is a Leading and Comical Fine Wine Blog, which revolves around interviews with Big Names in the Wine World.